Venerable Gangodawila Soma Thero Dhamma Deshana
Venerable Gangodawila Soma Thero Dhamma Deshana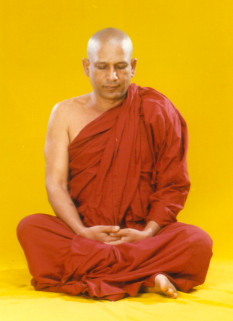 Venerable Gangodawila Soma Thera was born in Gangodawila, a semi-urban locality in the outskirts of the capital city of Colombo.
Soma Thera was ordained as novice in 1974 when he was 26 years of age under the tutelage of two of the most revered monks in Sri Lanka – Most Reverend Venerable Madihe Pannasiha Maha Nayake Thera and Venerable Ampitiye Rahula Maha Thera. He received training at the Bhikkhu Training Centre, Maharagama – an institution established by the monks mentioned above.
Having obtained his higher ordination in 1976, Some Thera continued to study the Buddhist texts in Pali, their original language, according to Theravada tradition. He was particularly interested in doing research into the teachings of the Buddha and have written several books on the subject.
He saw his mission to mould the younger generation to live according to the Dhamma. He rallied round him a youth organisation called Tharunu Saviya ("Strength of the Youth").
A keen student of meditation, he took time off to be in solitude in distant, lonely locations. His interest in meditating on the qualities of the Buddha made him work on an exhaustive study on the subject. His published work Buddhastupa is a useful guide to those interested in such meditation.
Soma Thera's links with Victoria (Australia) dates back to 1986, when he was invited by some Sri Lankans to spend time preaching the Dhamma. After six months he returned to Sri Lanka. When he came back in 1989, the groundwork had been done to set up the Buddhist Vihara Victoria.